Since its inception in 2009, Uber has been the poster child of startups heavily subsidized by VCs to take massive losses until it's the last one standing. But thirteen years can be long for not making money, even for the most hardcore and aggressive capitalists. Throw a global pandemic in the middle, and pressure mounts an order of magnitude or two. Driving with a stranger in a car becomes a biological hazard, and if food deliveries spike, it's obviously only a volatile opportunity.
In its 2022 Q1 financial report of May 4, Uber announced a 136% year-over-year revenue growth, which is impressive (until you remember that, yes, most US white-collar workers are back offline from endless Zoom meetings) but most importantly, there's still a $5.9 billion net loss to swallow. Granted, a large portion of this loss comes from stakes in Didi, Aurora, and Grab; it's still a large pill to swallow.  However you slice it, all this paints the lackluster profitability of ride-hailing –and to some extent, mobility-as-a-service in general– as a business model.  
On May 11 last week, Uber CEO Dara Khosrowshahi sent a company-wide wake-up call memo. Among quite a long list of "this is not OK anymore" items, the center-piece message was:
We have to make sure our unit economics work before we go big. The least efficient marketing and incentive spend will be pulled back.
As Warren Buffet famously coined, when the tide goes out, you find out who is swimming naked. Well, the tide of cheap capital and negative interest rates came to an end a tad abruptly a few weeks ago. The NASDAQ has anything but crashed, and tech investors have started to have second feelings about the fundamentals of the business they invest in.
As Khosrowshahi also explains quite concisely:
It's clear that the market is experiencing a seismic shift and we need to react accordingly.
You don't say. The time for flooding the market with cars at a loss is over, and now Uber has to put on some pants.
What to make of all this?
First of all, it's bloody good news! If you're afraid of facing business rationality and your only way up is plain and simple anti-competitive practices (subsidizing losses with VCs is not free-market competition), you should be out. For the record, UBER even used an exotic EBITDA calculation with tons of weird exclusions, making its profitability reports a somewhat hallucinogenic experience. Now they have to stop this too.
After a disappointing market introduction, Uber's stock price is now down more than 40% year-over-year. Again, good news– see rationality above. This will hopefully be a strong indicator for the future of startup investments.
In this big swing of the rationality pendulum, we might also hope that the question of the services that Uber provides will be addressed, not from an investment but from a market point of view. If Uber disappears tomorrow morning, who will take notice? Will our cities be worse off? Will the post-pandemic job market, where people are more and more questioning the rationale of "freelancing" to make a living barely, will suffer? (And no, it's not f** freelancing anyway, it's being a de facto employee without any protection.)
If, as I said, Uber is the poster child of these US startups fueled by cheap VC money and weak (if any) business model, they're far from being alone: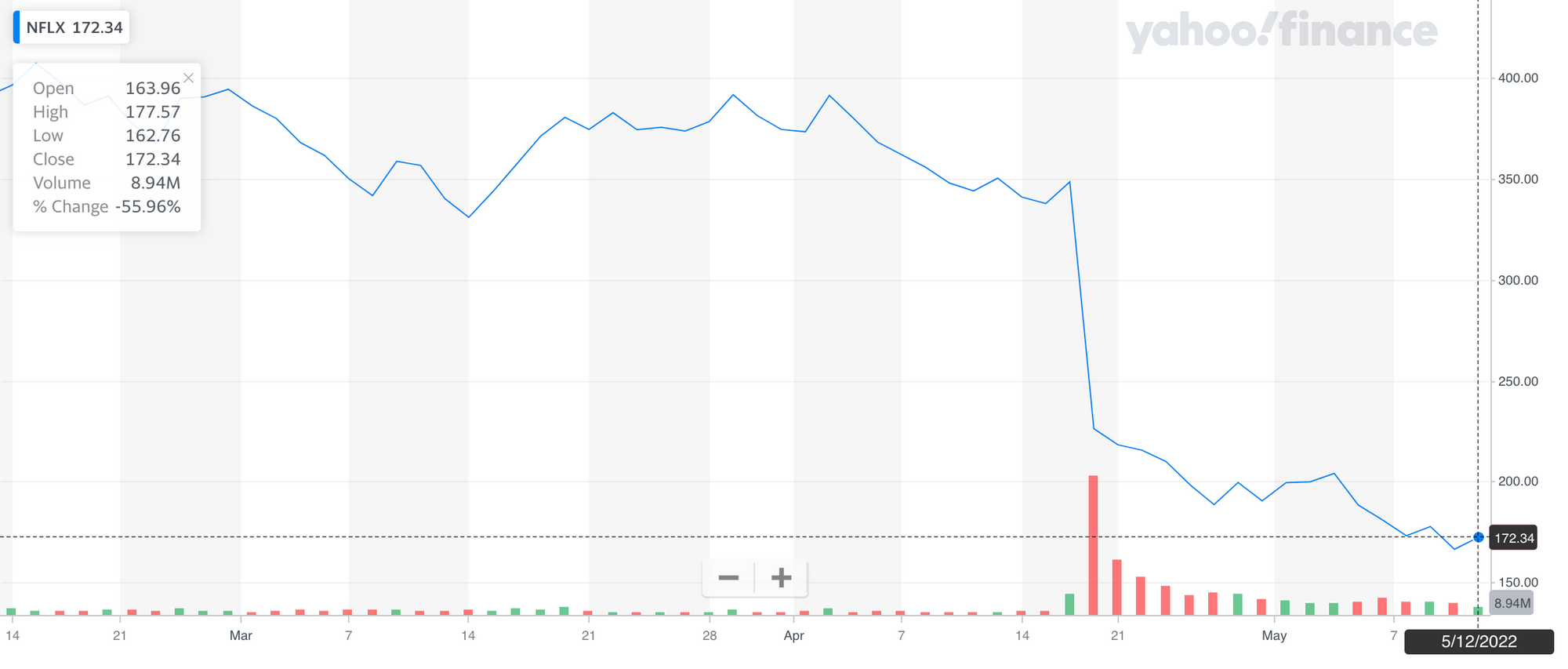 Netflix stock dropped like a stone after announcing the slightest pause in its subscriber growth. Robinhood has shed 87% of its value since August this year. Peloton is probably heading for bankruptcy before Christmas.  And of course, Twitter (having to deal with Musk would-be take-over on top of everything) is starting to clean up the house, firing its heads of product and revenue.  
And don't even start me on cryptos and NFTs.
At this point, the only question worth asking is: will the pendulum swing even further? Will we see a shift from top investors financing pizza-delivery startups to betting on projects that might have a chance to make a dent in climate change, reinvent work or education, or even– and I'm going a bit crazy here–prepare for the next pandemic?
I might keep asking the question for a while. For now we're back in a world where Apple is not the most valued company in the world but Saudi Aramco is, like in the nineties.