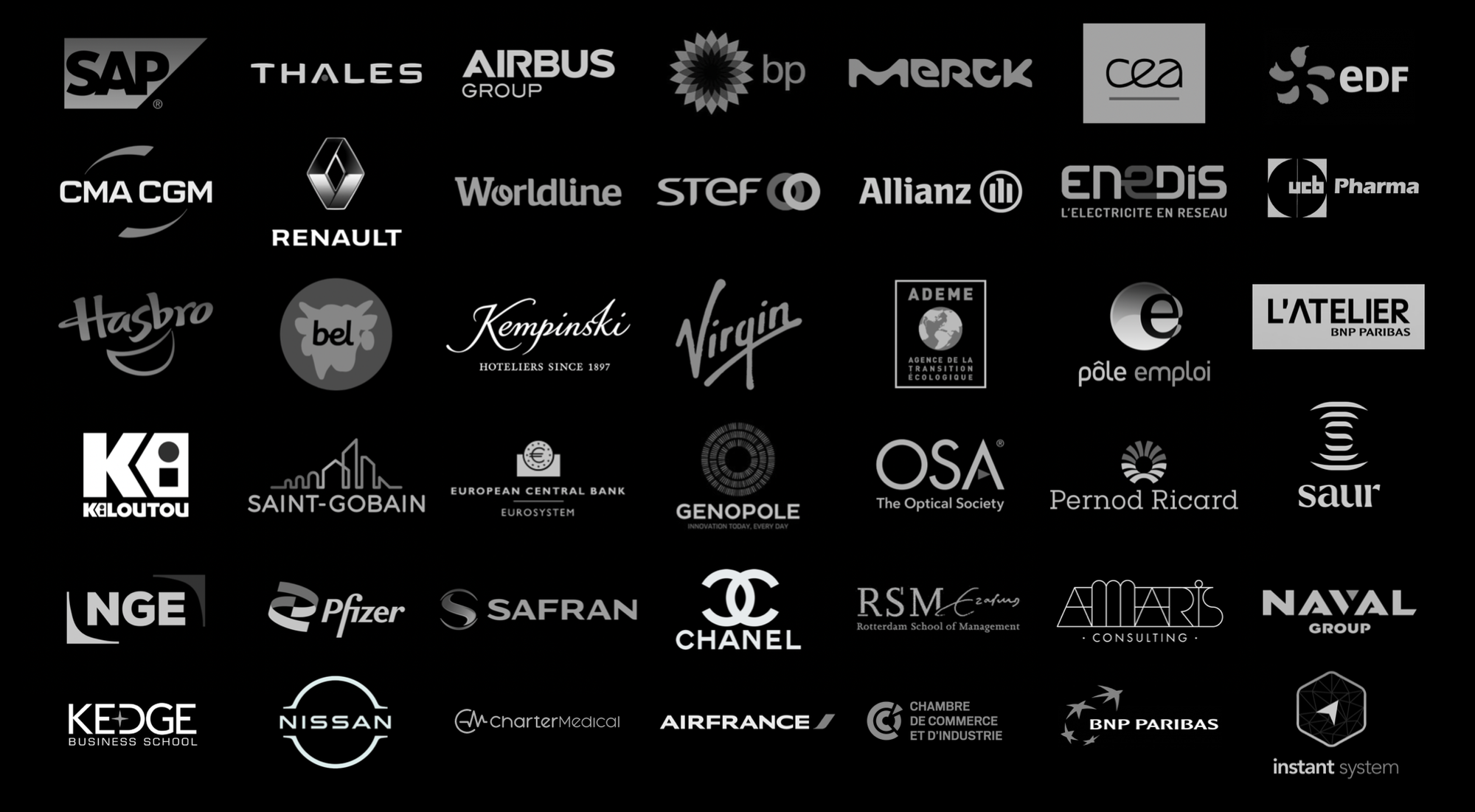 Missions
From rebooting the innovation culture of industry leaders to unlock how challengers transform new technology in performing business models, we work in markets ranging from consumer luxury to defence systems...
Since 2008, sharing our customers' success stories has been challenging due to the inclusion of highly confidential strategic information. Moreover, in some instances, as we get involved in preparing the launch of highly competitive initiatives or the repositioning of whole segments of product lines, we deliberately refrain from publicizing any information. A small price to pay for the numerous exciting projects we've had the privilege of working on!
Here are a few examples we can report about some of our signature tailored game-changing strategies:
Corporate
👔
We have two settings for blue chip companies: Project and Strategic mode. In Project mode, we help you drive to market one of your most challenging innovation projects when you know cookie-cutter innovation approaches won't deliver. In Strategic Mode, we work with you more broadly to efficiently redesign your approach to strategic innovation from the ground up and score early quick wins in a matter of months. In both modes, we are highly skilled at working from your current innovation skills and, along the way, upgrade you to the next level and up to full autonomy.
Institutions
🏛️
Our core value to institutions lies in instigating profound and enduring shifts in their approach to innovation and adopting new frameworks and strategies. We typically commence with one or a few initial projects, through which we cultivate trust and confidence by delivering impactful and observable results, setting the foundation for further development.
Startups
🚀
Startups are all about survival and cutting through the noise of dozens of methodologies and "good advice" they are bombarded with from day one. After more than 15 years of dealing with high-tech, high-risk early ventures, we are mercilessly efficient at getting there and creating focus on added value. We typically work with ambitious founders in the "zero-to-one" launch phase or later post-series A when the startup strategy has to evolve to scale-up mode rapidly.
Small Giants *
⭐
Too big to fit the startup playbook and yet too small to deploy industrial strategies, Small Giants' unique needs in terms of innovation are mostly ignored in the market. Not by us. Not only have we developed unique approaches mixing the best of both worlds to fit their unique position in the market, but we also believe they increasingly are where the most ambitious forms of innovation will come from.