😎
TL;DR -> From Oct. 9 to Dec. 4, 2023, a 9-week premium program with a step-by-step roadmap, and a weekly mission for only 30 participants to get a leg up on designing and starting a consulting business for a flat €420.
It's been a rather chaotic summer and I've had to aggressively prioritize many things these last few weeks. But I still wanted to publish this first 'back to school' newsletter with a simple announcement. Since 2011, I've been stealth-advising dozens of business or design school students on how to launch a consulting career around their key expertise and become freelancers, independents, or small businesses.
My idea is simple: Deliver a step-by-step roadmap of what you should do to get there, get yourself a leg up in a business format that is poorly explained at best, and save at least 6 months of fumbling around trying many things and not knowing how to kickstart the enterprise of you.
You're the target audience if a) you have some level of experience in your field (maybe not twenty years of experience, but not a student either), b) think about going into consulting (not personal training, self-development coaching), and c) are not fully committed yet to the idea and need to understand 'how it works' and if you'd be a good fit for this type of work.
I thought about how to do it for a few months and discussed it with many of you to fine-tune the most efficient format possible, and I've settled for a newsletter that will work as such:
Pack everything from positioning to networking and pricing a consultancy in a limited-run, 9-edition newsletter.
The newsletter will run every Monday from October 9 to December 4 (9 weeks, 9 editions).
Each edition will deal with a specific step (Defining your expertise, the difference between horizontal and vertical consulting, different pricing strategies, marketing yourself, soft vs. hard networking, etc.).
Each edition will give you a reasonably quick mission to get you on track. For instance, find a way to present a keynote to a relevant public (and will give you strategies to get there).
I'll keep grand theories and complex tools at bay to focus on super practical questions like: Should you start working for free? (No, never).
The core deliverable after 9 weeks is your project formatted in a clear way irrelevant to your type of expertise (finance, design, supply chain, HR...). But also, and let's be blunt, it's not a given: Should you go for it or not?
On Friday 8 Dec. morning, every participant will be invited to share feedback and his/her experience during a 3-hour remote session.
During all 9 weeks, all participants will have access to my mail for direct questions, and along the way, I'll format a FAQ so that everyone is in sync.
The cost? EDIT: Adjusted to a flat €420 including VAT (from €350 ex-VAT) as it's a pain to deal with ex-VAT in Ghost.
One last thing...
And it's quite important...
I want to keep things tight for this first limited-run newsletter, so I'll lock subscriptions at just 30 participants.
---
🔴
For those of you interested here's how to subscribe:
Step 1. First, subscribe to the free edition of the newsletter so as to be registered on our site.
Can can do it from the box below:
Step 2. After you have registered and have confirmed your email you can go to your profile (1) and click on your account (2):

Step 3. In your account window just click on View plans: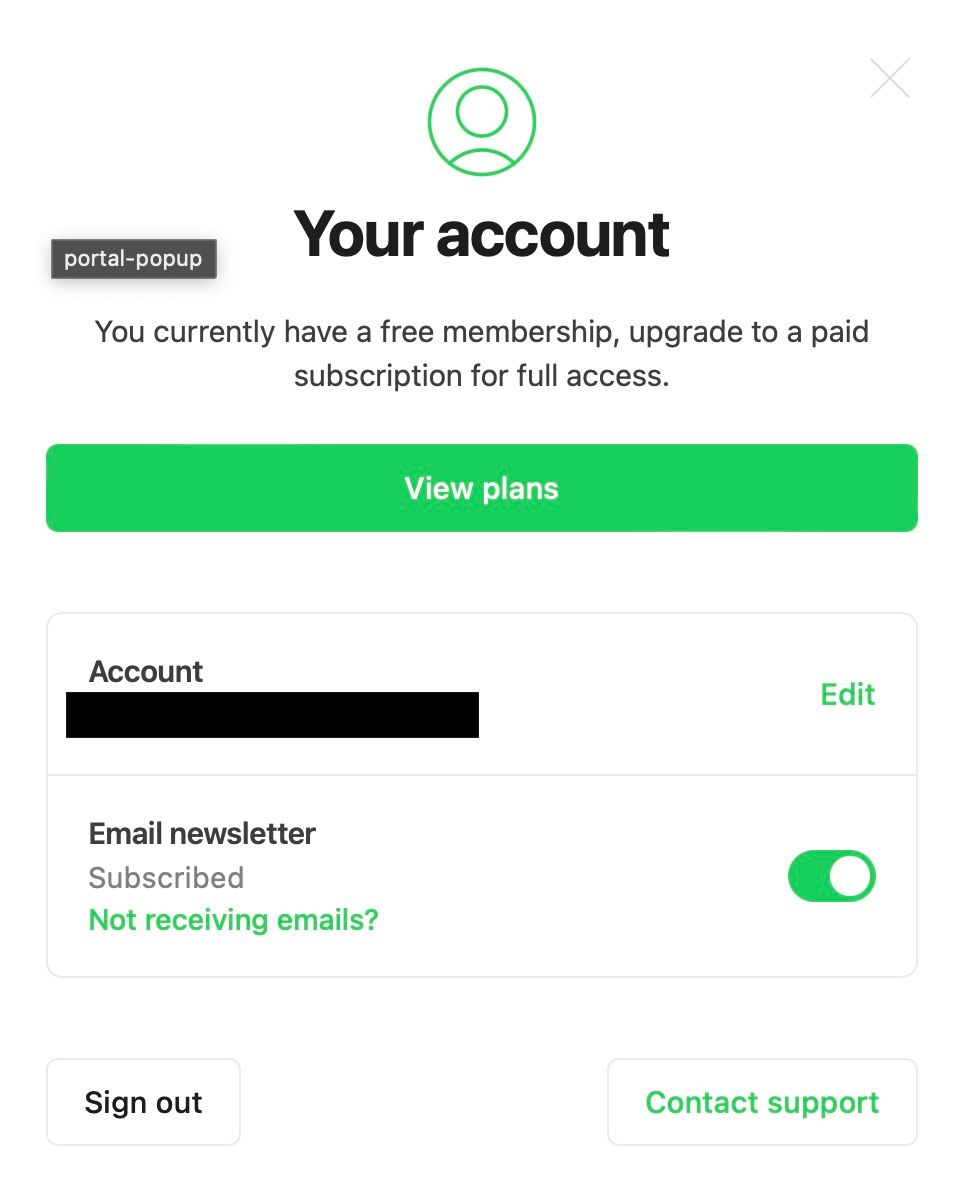 Step 4. And choose the Consulting Kickstart Program (you will be billed only once):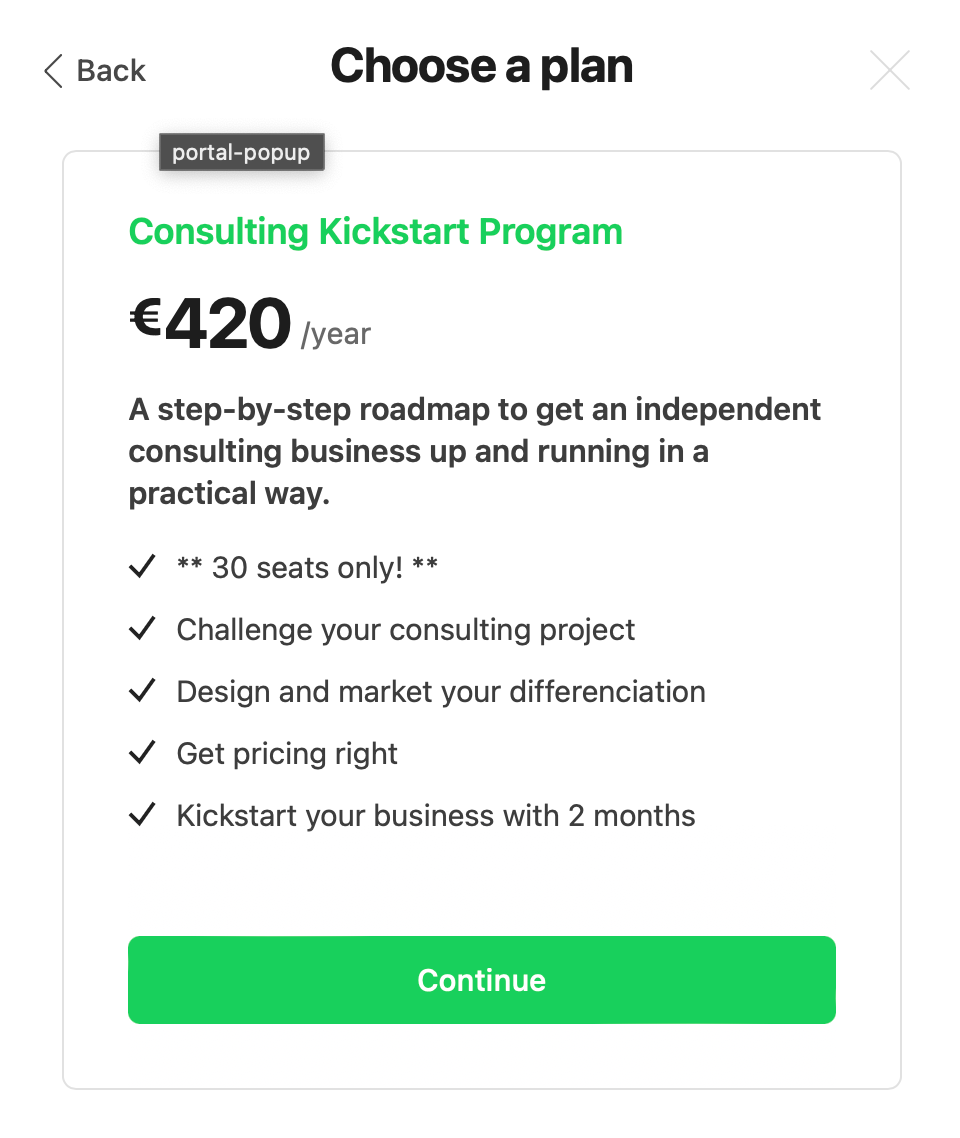 Step 5. Thats' it, you will then be led to a Stripe payment window and after you validate everything, you're in: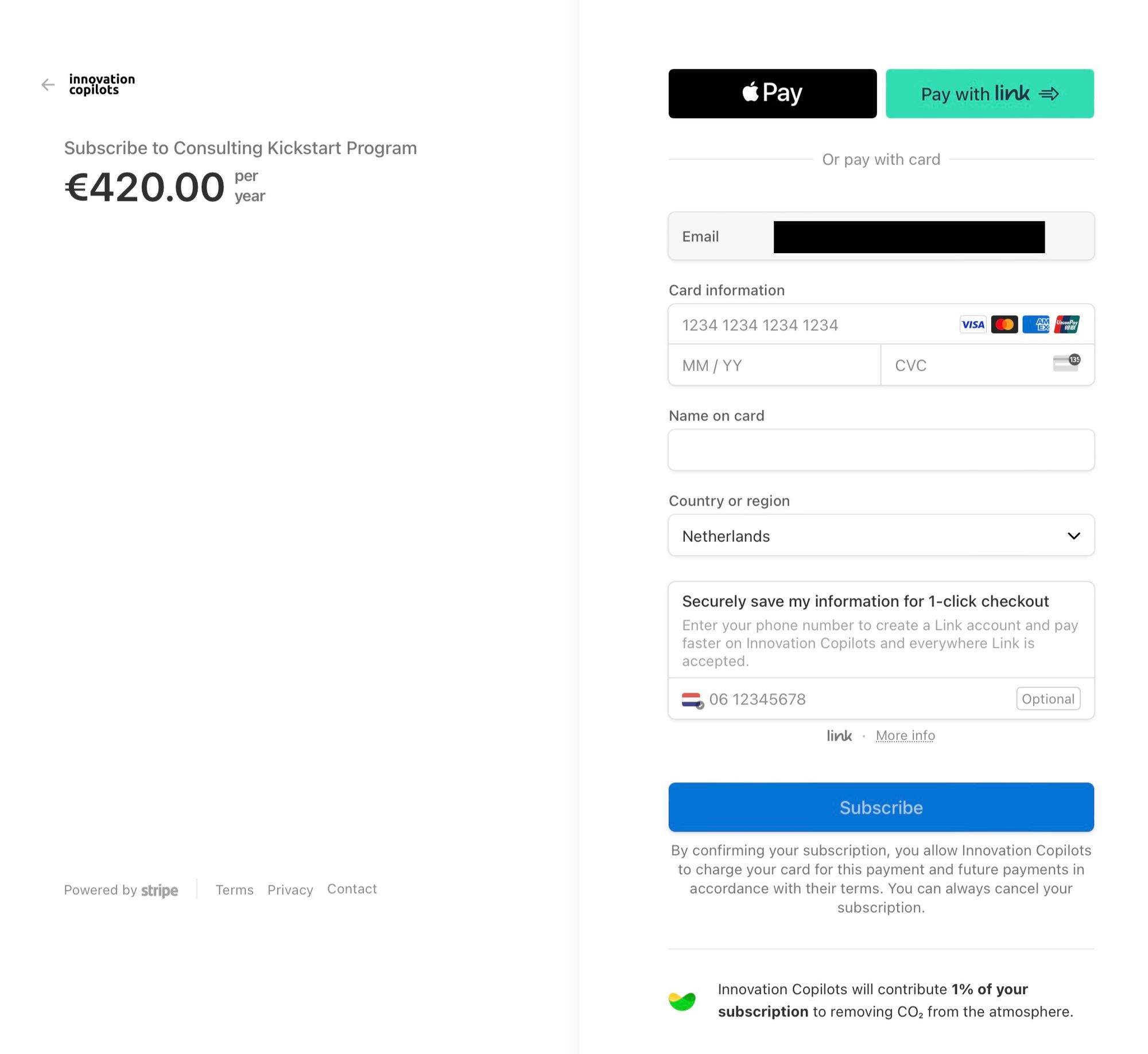 See you soon!