I attended last week the European Women in Tech conference in Amsterdam. It was the second year in a row, and in the end I am reminded of one of Philippe's article about why we do not attend conferences anymore, or so very rarely. The conference was at best « uneven » as a friend said who attended with me. Over the two days I enjoyed some talks and thought only a couple were interesting – really bringing some useful and practical insights for women in tech.
Here are the good the bad and the ugly about this conference:
Role models are a must
One of the elements I enjoyed about this conference and where I think they can inspire women in Tech, is it gives the stage to women in different industries in technology and makes them visible. This visibility is key to increase the pool of role models for women, and sharing stories of success and learnings from failures can really help women to find inspiration to persevere. During the conference we heard many stories of women in cyber security, women engineers, women CEOs of tech companies etc.
A good point also was to see some men very humble and engaged in gender diversity and acknowledging the importance and challenge of it in the workplace. Unfortunately, only already convinced men come to these events. I'm wondering if these engaged men give the same speeches in front of their male counterpart back at work.
Practical tips are key
Fortunately also, there were a few, very few, practical workshops and talks for women to get tips about how to develop their career in tech industries. For me, the two talks that saved the conference were at the end of day one:

– Pascale Thorre, Head of Global Diversity & Inclusion at Nokia. She gave an entertaining, realistic and practical talk helping women not only to understand the full picture but also to gain 3 tips to work on their leadership.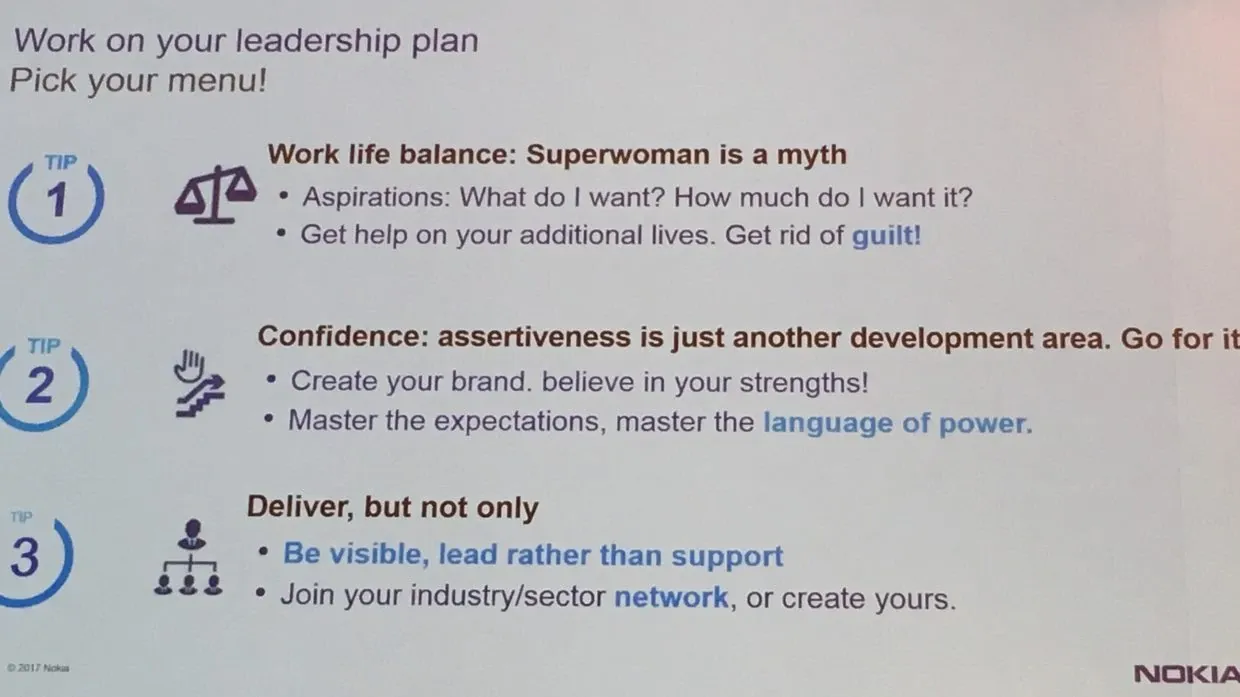 – Erin Weigel, Principle Designer at Booking.com. She was very inspiring and authentic with a clear message about « not being perfect but being authentic ».
Credibility was lacking
The conference was about experience sharing which I love, but somehow the balance between one sided perspective and a more overall birds eye view was lacking. Indeed amongst the speakers, the only doctor attending was working for a big corporation. There were no universities, no industry expert, and this decreased the credibility of the conference. Now I wouldn't attend if it was purely academic, but my time spent in research and with academia is driving me to look for some concrete data analysis, some credible source of information and some conceptualisation of what is going on. Especially now that I'm involved with ECWO (Erasmus Center for Women and Organisations) at Rotterdam School of Management. So I feel that a balance between research, expertise and corporate experience would have been much more powerful.
Pay to speak conference
This stems from my previous point. I discovered that to speak at the conference you had to be a sponsor. Looking at the agenda, you will see that the speakers are from the companies that sponsored the event. By curiosity I had asked for the sponsorship packages and yes, in the package you get a speaking slot. The more you pay the more exposure (keynote on main stage) you get. I'm not against sponsorship, but when it turns to advertising, it makes me doubt the curation of the content of the conference. Especially that most of the big sponsors were tooting their own horn for a major part of their talk. I'm ok with experience sharing from corporation when it is in the format: « this is what we did, this is what worked, what didn't, what results we got, what we learnt », when it is about giving back to the community. But it is just about « this is what we do, the services that we give to our customers and how great we are », then I'm pretty p*ssed off to pay to see advertising.
Do not go there to get your tech insights
And lastly, I am disappointed by the level of tech sharing. It was either so technical that it should have been presented in a specific tech conf. Or it was so superficial and messages heard before that I'm angry that women in tech are getting subpar quality workshops. For women in tech I would rather encourage them to attend better quality tech conf, to join men there and be up to date with what is going on in their industries, like NEXT I attended in Hamburg last month. Gaining tech insights is not a women's subject. I get that women might feel more comfortable amongst their gender peers for personal development subjects but not for tech specific subjects.
All in all
Apart from a few interesting connections, I am as you have read pretty disappointed, but still open for discussion with women's events organisons and curators.