TL;DR
💡
We take care of the Startup 101 training part so that you can focus on delivering personalized expertise to your tech entrepreneurs.
Jump directly to the program in French or in English.
What Are We Offering?
📆
A 3-week online training boot camp for B2B startups getting in an incubation program.
The training program is focused on what new tech entrepreneurs must digest as soon as possible and that will be clashing with their typical business experience or academic education.
What we focus on:
Debunking entrepreneurial myths and removing all of innovation traps from day one.
Simple and as effective frameworks to drive through complex decision making.
Getting innovations in the market, not dreaming about it.
What we don't care about:
Big theories, buzzwords and trendy tools that are ineffective.
Training entrepreneurs to win pitch competitions.
Teams that end up just building tech in their garage.
Startupping is a contact sport, not 3D chess.
Who Is It For?
🎯
Startup programs that want to get their startups beyond the learning curve ASAP.
We have 2 customers: you and your startups →
Tech entrepreneurs launching a startup, who wildly overestimate the time they have to make the project stick and get their first sales.
Incubation programs, VCs and tech clusters who want to focus their resources on real coaching and mentoring, not going through the same initial months of entrepreneurs acculturation.
Why Online?
⏩
Short answer? We're in 2022!
To catch up with the culture of tech entrepreneurs and the way they work, think, and process information.
To extend your zone of influence in the ecosystem and attract projects that might not be in your usual geographical perimeter.
To manage an on-going deal flow of startups that don't fit neatly into a seasonal batch of applications.
To concentrate your resources and budgets on what matters and not spend time on on-going trainings and reminding again and again what is for you basic principles.
To keep on managing Covid-19 safety constraints on physical meetings and events, probably past 2021.
What's the Problem With Startups?
🍪
Very few startups fail from complex issues. Year over year, it's just the same issues that seem pretty obvious to everyone, but the entrepreneurs themselves.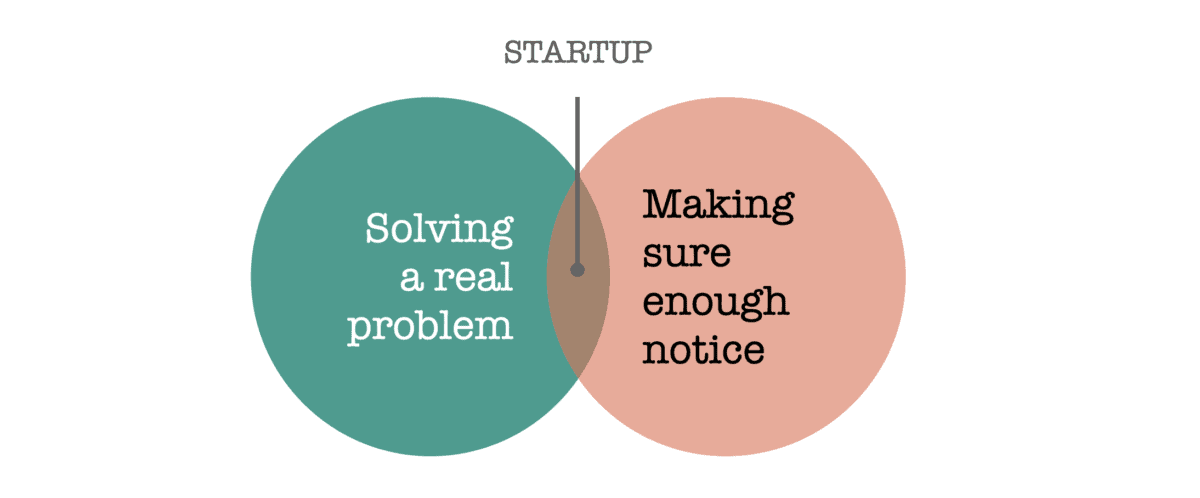 So yes, we all know the same core truth: the top priority for tech entrepreneurs is not coding or pitching business plans, but getting to the market ASAP. And we know that the first weeks of incubation matter the most. When entrepreneurs can understand and apply the right culture and principles from the get-go, they can easily save 6 months of painful trials and errors before they finally get their mojo.
But oftentimes, the Startup 101 trainings are just all over the place and not very actionable. Everyone is an expert on something that they feel is key for the startup and wants to "educate" the teams. Where do we start? Business planning? IP? Growth hacking? Design thinking? It's a mess.
Not to mention that very few of the so-called experts have any hands-on experience on what a startup is…
As for us, working with hundreds of startups since 2007, we've learned the hard way what is key and what is not. Founders don't need an MBA. They need to cut everything to the bone and focus on the tools and mindset that (a) will get them to the market within 6 months and (b) will be a scalable foundation moving forward.
How Is the Training Designed?
📺
It's a step-by-step program with 5-10 min teachings and immediate practice mode with effective deliverables.

Entrepreneurs get a step-by-step guide on each topic, then they get challenged and directed to apply this to their project. Each module connects to the other, and before they know it, they get to understand which are the priorities, how to deal with them, and have a clear 360° vision of their project. Along the way, they get on the same page as your own incubation team and you don't waste time digging deeper into the real complex issues on a case-by-case basis.
The program itself is organized in 3 main chapters:
Design a business model around a product that doesn't exist yet.
Grow a scalable culture with a project that might pivot a few times.
Market and sell an innovation that the market might not yet fully understand.
Each chapter is subdivided in 6 video modules of about 30 min total.
Each module introduces a simple and effective tool to move forward, while a key principle is laid out (how to get a first price point for your innovation, how to give clear guiding principles for your team, how to connect your marketing to your roadmap, etc).
At every step, a quick quiz or formal check is proposed to make sure that participants are on track, and at the program conclusion, each participant will have built a full strategic and operational framework for their startup project. This framework will be the stepping stone leading to personal coaching by the incubation team following the project (or us, if your hands are full and you want us to help beyond the training).
Each year, when you open the trainings for the first time, we'll spend time with your teams to get in sync and make sure that they understand what we're doing with the startups (and what we won't). This is usually a breeze.
Training Program
1. Build a No Non-Sense Business Model
✅
Assembling the building blocks of an effective business model out of an innovation project and selecting viable strategic priorities.
Key concepts
Innovation is about solving a customer problem, not "just" building tech.
Innovation pricing is value-, not features-based.
Syncing product roadmap, strategy and marketing through your business model.
Modules
The building blocks of a startup business model
Aiming for pain points and prioritizing your incubation time
Customer's ROI, B2B value analysis and pricing
Roadmapping technology for maximum differentiation
Connecting the dots between the startup strategy and its marketing
Putting together a first viable business model
Deliverable → 360° Framework of a first effective business model
2. Develop a Scalable Startup Culture
✅
Organizing operations between co-founders, structuring a startup team, and an ecosystem around it, aligning and developing resources rapidly.
Key Concepts
Aligning teams with a clear vision and an effective level of autonomy
Building the ecosystem with a virtual board, sponsors, and opinion leaders.
Understanding a startup is not a smaller version of a company.
Modules
Building a culture framework and why culture indeed eats strategy for breakfast
Wiring in startups connectivity to its ecosystem and market
Driving through uncertainty by aligning values, vision and team
Building the first processes fit for a startup ("operate")
Debugging the 3 cultural biases and adjusting team development priorities
Anticipating the 6, 12 and 18 months milestones and preparing for scale up
Deliverable → Clear set-up of the startup team working principles
3. Reach Out to the Early Market
✅
Efficiently generate B2B contacts, get to the first paying PoC within months, and design a sound sales strategy for further on.
Key Concepts
Web presence, early stage branding and startup soft power
Leads generation and deal flow build up
From an early PoC to first sales within months
Modules
How to appear and make your mark in an early market
Becoming a key opinion leader on your innovation
Harvesting and organizing qualified contacts
Graduating active contacts to PoC customers
Upgrading PoC customers to regular sales
Ramping up and organizing your sales funnel
Deliverable → A personalized multicanal B2B sales funnel.
Social impact
Also, our program works on the caffè sospeso principle. It means that we will match 1:1 a free training for a young tech female entrepreneur, or an entrepreneur in Europe coming from a minority, for each trainee going through the program with a paying customer. Each time, we will rely on independent partner non-profit organizations will choose the recipients of the free training.
❤️
And, we're glad to disclose that our first social impact partner to kick-off the program will be
Female Wave of Change
, a Dutch foundation promoting a meaningful feminine transformation of the world by building bridges, sharing knowledge and experience, and creating new opportunities together.
FAQs
Q. Why should your training be interesting for us?
A. Because you're not excited about running a startup zoo or just renting five spaces. And you believe your best shot at supporting the startups you work with is to help them see through the background noise in the ecosystem, and get to customers ASAP.
Q. What's your training strategy?
A. We've removed every superfluous concept that wouldn't bring added value to the startup trainees. We then challenge them step-by-step and provide what is the most efficient tool or know-how to nudge them forward. All training modules link together and before they know it, the startuppers have built a full 360° picture of how to run their project.
Q. How many startups have you already trained?
A. We have dealt with anything between 80 to 120 startups a year since 2007. We've been working for public and private incubation programs in Europe and China, but also many corporate incubation programs in telecoms, banking, luxury, automotive, biotech, or supply chain markets.
Q. How does the training work?
A. They are focused on 20-30 min videos. Each module addresses a specific problem that the startup team has to face. Each module requires from 20 to 45 min of a team or personal work afterward.
Q. When do you start this program?
It's currently available 😎
Q. What online platform are you using?
A. We tested quite a few and ended up selecting Thinkific because it's robust, well-integrated with Zoom, and doesn't overshoot with gimmicky functionalities.
Q. You don't talk about the business plan, IP, or bank loans?
A. Certainly not. Not because these other topics do not matter, but because they are easily addressed in the ecosystem by many experts. Very rarely a startup will fail because they forgot about IP or opening a bank account. Our job is to drive them in the most complex matters swiftly and efficiently so that they can connect both the strategic and operational dots together within the first month.
Q. Only 3 weeks, isn't it way too short?
A. That was actually our starting point to design the program: how to help startups save the most time by investing as little time as possible in a training? We focused on the best "return on time invested" assessed after thousands of hours of training and consulting on these very topics.
Q. Why just B2B? Do you hate B2C?
A. No, we don't, we are just extremely rational about it. Most of the European startups today are B2B (70% to 85% depending on the country). The hard truth is that B2C has become way too capitalistic for regular entrepreneurs and it shows. Unless you are a team of veteran startuppers, your chances of surviving the launch are close to nil. And these veterans? They don't need training. Still, we keep our ears to the ground and will love to have your feedback if you're dedicated to B2C startups incubation.
Q. Still shouldn't you have at least a few complimentary training modules?
A. We are already preparing a few modules that are specific to some types of startups or markets (SaaS and recurring revenues strategies, biotech and pharmaceutical markets, teams working cross-borders and remotely, etc). But for now, we focus on the core startup business. If you have specific needs for your program, it's a great time to talk.
Q. Would you recommend organizing X waves of training each year?
A. The training is self-service with unlimited access. You can organize how you work with it as you see fit depending on your deal flow and your current setup.
Q. Could we get your training under our own brand?
A. As the program is about the expertise we developed since 2007, it is indeed (lightly) branded Innovation Copilots. Consider that we have our own identity and culture, and unless they are incompatible with your program this is also what you're buying!
Q. Where are you based?
A. We are working between Amsterdam, Paris, and Shanghai.