Dans cette société qui encourage, récompense et valorise l'extraversion, enfin un livre qui met en valeur les introvertis ! "Quiet: The Power of Introverts in a World that Can't Stop Talking" est un très bon livre de Susan Cain qui s'appuie sur plusieurs années de recherche. Quelques points que j'ai retenus jusque là (je ne l'ai pas fini mais suis déjà très enthousiaste) :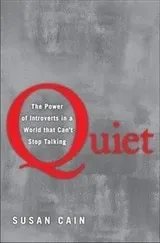 Les extravertis ont causé la crise de 2008. Aurions-nous écouté les messages de prudence des introvertis face aux risques nous n'en serions pas là.
Les introvertis qui parlent en public ont un très gros avantage. Ils font de très bonnes interventions car elles sont basées sur des observations pertinentes, des analyses profondes et des messages réfléchis.
Les introvertis sont souvent des hyper-sensitifs : ont des capacités d'observation et de rétention d'information très élevées.
Les introvertis ne sont pas des asociaux, ils ont juste besoin de moments à eux loin des autres pour vider leur esprit ("information overload" causé par l'hypersensitivité).
Susan Cain cite de nombreux exemples d'introvertis qui ont fait leur marque sur le monde, même s'ils n'ont pas été vus comme aussi charismatiques que leurs collègues, partenaires ou amis extravertis.
J'encourage donc les introvertis qui nous lisent à rejoindre la "Quiet Revolution".