We've been one year in the pandemic as a consulting agency. Like quite a few of us, I guess it's a good time to reflect upon what has changed (or hasn't) these last months, and in case you'd be interested, let's discuss where we are going from there.
Managing customers expectations in March
To start with,  March last year was a tad weird.
I worked in medical research before getting into the industry. After the initial shock, very early on, the pandemic's overall dynamic and its far-reaching consequences were immediately in my mind. There was no doubt we'd be in this for the long haul. As such, very rapidly we were preparing our customers for the fact that we were not going to travel anymore until the summer of 2020, and probably not even until the end of the year. Surprinslgy enough, if some customers were thinking we were maybe overzealous, we didn't get a lot of push-backs. And, by April, we managed to switch to remote working with everyone.
Hats off to Kedge's MBA that early on was OK with me not even considering going to Shanghai for the summer launch class, and was soon on board with a fully online class approach (more on this in a later post).
Getting into May, our industry customers were having short-term travel bans between Europe and Asia, canceling physical events and meetings right and left. I believe that most were still planning on just a few more weeks of disruption, and maybe the summer temperatures knocking down the damn virus. The first "oh shit" moment was when the Mobile World Congress announced the cancelation of all live attendance. I was at the time working with Thalès on a confidential project that was to be disclosed to a few VIP customers in Barcelona, and well, let's say we were glad to have prepared a communication backup plan.
We were also caught in the middle with a few more customers. Stéphanie had just started an ambitious mentoring program with the top management of Pôle Emploi (the French Employment and Training Administration), and I was working on the implementation of a service innovation studio for one of Saint Gobain brands. In both cases, customers trusted us to switch everything to Zoom essentially. And in both cases, one week in, everyone was up to speed and, weirdly enough, quite efficient.
Kudos, too, to our amazing partners at Meaningful and 15 Marches, that organized with us so many online sessions and workshops via Zoom without skipping a beat. Interestingly enough, the ballpark outcome of transferring live workshops and training to Zoom was 30% less conviviality and 30% more productivity.
At this point, Consulting 1 – Pandemic 0.
The summer adjustment
During summer, most of our customers and prospects were then fully adjusted to remote working. Was it comfortable for all of them? Certainly not. But again, I believe that the productivity upside, albeit received with mixed feelings, was clearly felt.
Stéphanie proved to be quite reassuring for one of our partners, Rotterdam School of Management, as she could easily transfer her contribution to their women in leadership program with European Central Bank to an online session. These international programs rely heavily on networking and conviviality, so she had to show how it could somehow be recreated online as to not lose the value and competitive advantage.
On our side, after some initial lag, we got 100% of our target 2020 budget signed and in the pipeline. For reference, in a typical year, we have 80% of our budget signed and scheduled by the end of Q1. So, despite all the personal and family stress due to Covid-19, business-wise, we were quite good (we even ended up doing our best year since 2009).
And moving forward, the last two quarters of 2020 were pretty smooth. While KLM was gracious enough to renew our Platinum level for an extra year (well, not much choice for them, I imagine, but still), we ended up enjoying not flying anymore (sorry, KLM). We also got more time for new projects and started designing a Web School program, on which I will give you a full presentation in a few weeks (hashtag: tease).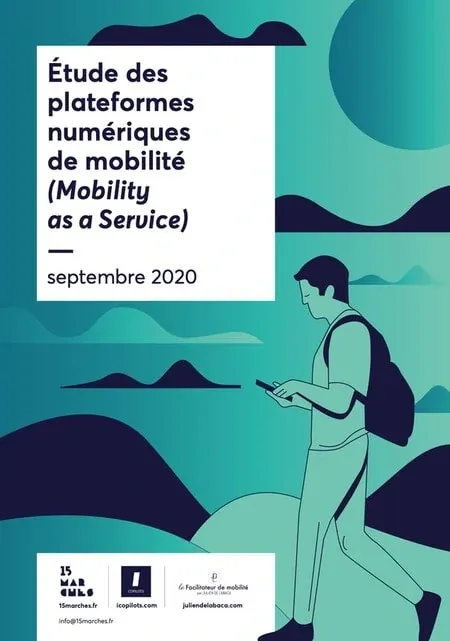 Also, I got more time to work on strategic market research for some key customers. This was a nice change of pace, where I had the time to work for several weeks at a stretch on a specific innovation trend or market. In 2020, I wrapped up a full study on the European opportunities in the mobility as a service (MaaS) field for the French Agency for the Environment and Energy Management (now, Agency for Ecological Transition). And I'm currently working on the worldwide Foodtech and Agritech markets for the French biocluster Genopole.
I also got the time to organize a dozen webinars on the business and innovation perspectives post-Covid for customers ranging from Thalès to CHANEL. I must say, I got the format right from the get-go, with 40 min of presentation and 20 min of Q/A to wrap everything up.
As for online training, the secret is that we already had years of practice. Since 2007, an unexpected perk of having customers all over Europe and some in China is that we never were able to do 100% of our work face-to-face. The online component has been part of the game since 2007, and the big transition of 2020 was to go 100% online, up from 30-40%
In the end, what worked in 2020
If I look back at what worked, I'd keep two key success factors:
First, we were already working online enough of the time to be able to transition smoothly to full-online. When you never organized training or a conference online, well, you're in for a bumpy road to adjust.
Second, we were also able to rely on solid consultant partners that were too quite ready at going from partially to fully online. Whether they were specialists in industrial design, business development, or executive coaching, we were all able to get in sync without skipping a beat.
Regarding the 'online' part of the discussion, I'd be remiss to forget our modest but very effective website and its 758 articles on innovation and business transformation published as of today.
Another thing that we live with regularly, but that might not be your own experience, is that 90% of our customers are working on some level of emergency, or market pressure, to adjust and deliver ROI with their innovation strategy. Since 2007, we learned to avoid customers that want to "step back" or "explore options" about their business. Without saying that all of our customers are in life-or-death scenarios business-wise, there's always a clear and tangible deadline to deal with. This also means that when Covid-19 hit them, the urgency of delivering results was not lessened but very much accrued.
And what didn't work
Seems to be quite the fairy tale ain't it?
Not really. We had a few fall downs along the way, like proposals that didn't go through because customers were still really betting on live sessions. A few keynotes speeches were also canceled, which somehow was quite the blessing in disguise (more on this, too, at some point).
But the biggest surprise would come from one of our longest and trusted customers, which I will tangentially describe as one of the largest European corporate training facilities in the aerospace market.  As soon as they understood that live training would not be possible anymore for the possible future, they shut down all operations overnight. No explanations, no message of support for anyone really, no plan B, just leaving all their 130,000 employees dead in the water.
After a brief discussion with Stéphanie, we decided there was no way to work with this team again. The irony was that we were pitching a digital leadership training program to this same team 6 months ago. Oh, the irony. To this day, the only communications we got from them are automated emails from their purchasing department.
Less disappointing were a few missed opportunities from a few years ago. Such a case was with one of the largest supply chain companies in Europe, which I worked with from 2018 to 2019 on their innovation skills. After a few successes, and especially an operation to rebuild value with one of their key customers, they decided not to push a strategic analysis on the potential disruptions coming in their market and ways to mitigate or use them. No hard feelings, one of the pivotal executives was retiring, and internally the period was challenging. But damn, what a missed opportunity for them not to have been more prepared to surf this global supply-chain disruption we are still in.
These few examples probably speak of a form of Stockholm's syndrome that Stéphanie and I have developed. But we can't prevent ourselves from seeing these missed opportunities as a failure on our side, not being able to help them understand that innovation's end game is always about investing in uncertainty and optionality.
What worries us today
To also mitigate this somehow rosy picture of our business in 2O20, being who I am, I started to have a bad feeling about our long-term perspectives. You have to understand that consulting is a person-to-person business. For Innovation Copilots, we have three sources of incoming business:
As previously stated, our website, explaining how we think, some of our tools, like our innovation radar or some of our frameworks.
The previous customers that recommend us to their contacts (our NPS is above 9—thanks for asking);
All the coffees we share, the informal exchanges after a keynote or a training.
As you can imagine, the coffees were not on the table anymore—both physically and metaphorically. Previous customers talking at events and meetings and being kind enough to recommend us were probably going to disappear for a while.
And yes, we started to record a clear dip in incoming proposals and referrals in Q1, 2021. Nothing too dramatic, but a dip nonetheless. Now, I never believed that shoemakers' children were going barefoot. So yes, we have plans.
New plans
To quote whoever was saying that: a crisis is a terrible thing to waste. Even if I was explaining until now, we were not too shaken and somehow rather vindicated in our practice, we do look ahead of us. And this also begs the question about our lifestyle as consultants.
We came up with a few key decisions:
We're not traveling so much anymore
We're developing online assets
We'll be investing more in our partners and previous customers
The traveling part seems obvious; it's not.
A large part of our market value is our reactivity and capability to address customer issues face-to-face, build trust, and onboard teams on transformative changes. Of course, when the consulting work is started, being remote is not a problem anymore for us (again, 30% less fun maybe, but 30% more effective–remember?). So, we have a few ideas that we are currently testing and disclosing step by step to build intimacy, trust, and business intimacy from a distance.
One of the key components is building digital assets. And we are starting with the first wave of online training programs in 2021. The first set is aimed at startups, the second one for key executives
The startup training program pitch is as follow:
Startupping is a contact sport, not 3D chess.

We take care of the Startup 101 training part so that you can focus on delivering personalized expertise to your tech entrepreneurs, with a 3-week online training boot camp for B2B startups getting in an incubation program.
This training is focused on what new tech entrepreneurs must digest as soon as possible and that will be clashing with their typical business experience or academic education.
The last building block we are working on is about involving past customers regularly with our new customers.
Last year, for instance, working on innovating the construction market with premium services, one of our customers from the luxury industry came and shared how they were building memorable experiences and long-lasting bonds with their own customers. Two years ago, in the aerospace and defense market, while working on digital leadership, we were planning to use one of our past customers' expertise that is managing the fast prototyping labs of a worldwide automaker. I'm currently working with another past customer in the medical market to help a tech cluster make sense of the foodtech revolution. And so on.
These cross-market perspectives are rarely leveraged, which is incredible. They are a boon of untapped best practices and strategic learnings that we have accumulated over the years, and we intend to activate them more and more.
Looking ahead
So that's about it. We feel lucky to be in an area of business and the economy where we could protect ourselves and maintain our activity. I'm not sure that there is any lesson to be learned from us, but as usual, we're always happy to share our experience.
The next step will be to start opening up our new online content and training that some customers are already testing and using in different countries and networks. But if you're already interested, drop us a mail or a tweet.