Je n'ai jamais travaillé de près ou de loin avec l'équipe de Jolicloud, mais c'est une aventure que je suis depuis 2009. Cette startup française a été pour moi un marqueur du virage vers le cloud ces dernières années et suivre son évolution, ses problèmes, ses succès a été très parlant.
Au risque d'être corrigé sur la validité de ce que je vais retranscrire, voilà comment de l'extérieur j'ai  perçu l'évolution du projet. Au départ il s'agissait de fabriquer un netbook alternative au OLPC, un ordinateur léger peu cher et fonctionnant avec des services en ligne gratuits et sur une version d'Ubuntu ou Debian (je n'ai jamais compris). Courant 2010, le projet a ensuite pivoté vers un OS léger dans l'idée de ce que Chrome OS cherche maintenant à faire, avec une V1 intéressante en 2011 et un reboot marketing de la startup.
Le 12 mars 2013, nouveau pivot. Nous verrons si c'est le dernier… Mais pour l'instant l'idée de Joli OS est mise en retrait et l'équipe se concentre sur une promesse peut-être moins ambitieuse, sacrément mieux focalisée et Jolicloud devient Jolidrive :
We've tried different ways of giving you access to your data, but they were not exactly what you were looking for. We went back to the drawing board and decided to answer a simple question: if the cloud is the online hard drive containing all my data, why don't I have a simple access to it?
Soit : "Nous avons essayé de vous donner accès à vos données de différentes façons, mais ce n'était pas exactement ce que vous attendiez. Nous sommes retourné à la planche à dessin et avons décidé de répondre à une simple question : si le cloud est le disque dur en ligne contenant toutes mes données, pourquoi est-ce que je n'aurais pas un accès simple à celui-ci ?".
La question est claire et pertinente.
Bien que refusant de chercher à faire croire que je vois le futur, je peux croire que c'est un pivot efficace. Il m'intéresse donc de le faire partager aux startups avec qui je travaille (et aux autres, d'où ce blog) pour qu'elles comprennent bien la nature de leur travail.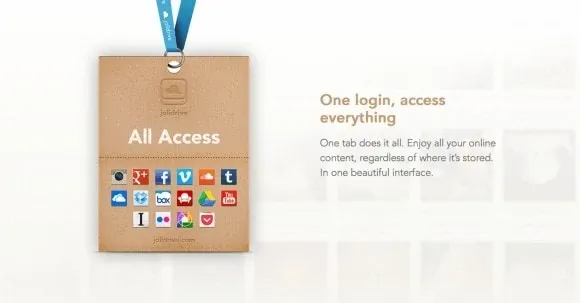 Le pitch vidéo de la solution est par ailleurs simplement parfait : positionnement et illustration d'un problème qui parle haut et clair, démonstration d'une solution simple et pertinente, "magie" technique, tagline évidente "Get Your Life Together" et tout cela en 1 minute 09 secondes.
Appréciez le travail, prenez-en de la graine et souhaitons-leur bonne chance :