I'm glad to be sharing this article about Claire Déprez, Innovative Management Programme Leader at Worldline, the youngest of the transformation leaders I've interviewed. I've met Claire in 2014 when she was a mentee in the mentoring pilot programme I designed for them. The year after, she became member of the voluntary mentoring coordination team. But this interview is not about mentoring even though the programme was the trigger for her career insight, her evolution in the company and the management culture transformations that followed.
What struck me in our discussion was the speed of her development and how she initiated management and team practices evolution at Worldline using her intrapreneurial spirit and a virus-like spreading approach.
Disclaimer: the opinions and perspectives shared in this article are my own and that of the interviewee, and do not necessarily reflect the official position of the interviewee's employer.
A self-made intrapreneur
Claire actually created her own job. It all started during the mentoring programme she joined because she had been a manager for 5 years and had questions about her role evolution. She was looking for something else she wasn't able to describe yet. Curious about one of the tools, called moving motivators, that was shared within the mentoring community, she had to find out more. This lead her to register for a management 3.0 training where she learned about new management mindset, values and tools. Taken by this, she straight away experimented with her team.
Then I tested things with my team, straight after the training and I saw the team transform itself, becoming more autonomous. We applied the tools but also the mindset, that is the most important. It is for the manager a big task of letting go and letting the team do. Even if you are ready to do it, it is not an easy thing.
She quickly realized that these new management practices were of course about tools and ways of working but it was first and foremost about trust.
It was a big revelation for us when I let them manage their own planning, they really became autonomous, they organized themselves, project time and time off. So I could focus more on one-to-ones with them, follow ups and setting up workshops.
Like a true intrapreneur, Claire tested and learned by doing with her team. She did not wait for permission, she didn't wait to become an expert, she trusted her team to be open, to learn and grow with her.
The second trait I noticed about Claire was that she liked to put things in motion, and dare I say with emotion. Her energy and enthusiasm seem to be very contagious, and her will to share best practices and help others is evident. I'm sure this is what earned her the possibility to create her own job. First she did it under the radar in her own time.
It took our team 6 months to transform our practices. Then I wanted to spread to the rest of the company. So I did under the radar workshops, during lunchtimes, with volunteers, once a week.
After some more advice from the mentoring community, she started to gain supporters before really launching. A programme was slowly starting to be designed in her head. At first she focused on managers and then concluded it should be for everyone.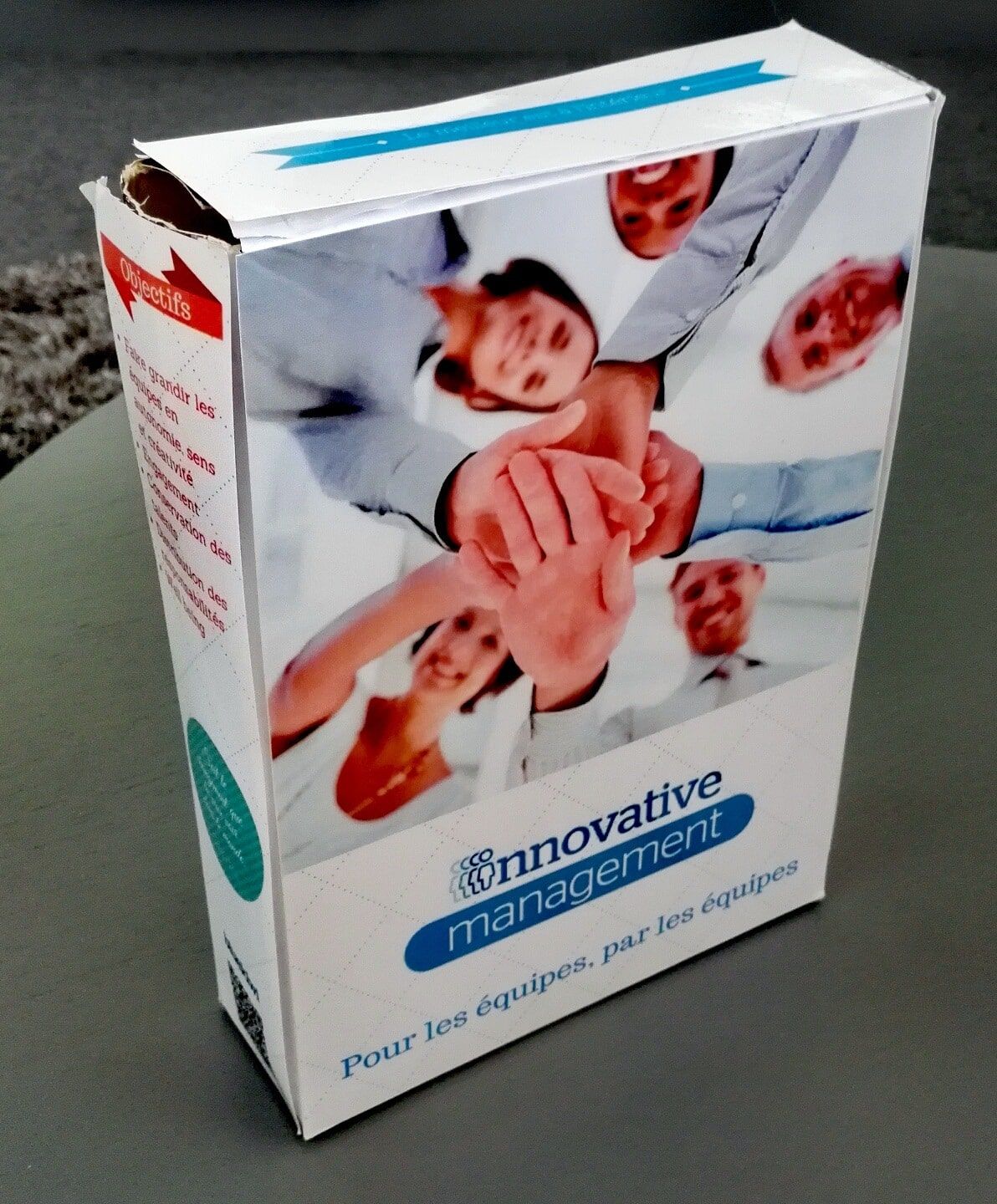 What triggered her to go see Claude France (Director of Worldline France) with a chocapic cereal box (product box exercise learned during mentoring workshops) explaining her project was a misunderstanding about management 3.0:
One day there is a general meeting which I did not attend, and Pascal Traclet talked about something 3.0, and people came to see me afterwards saying 'they talked about your thing'.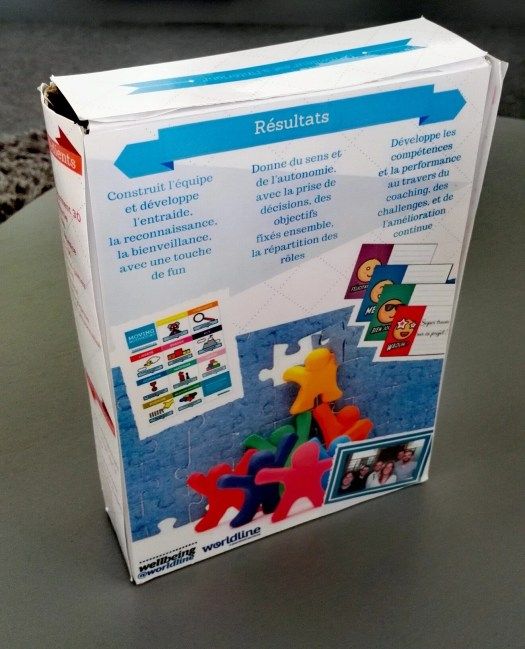 Actually they were talking about something else, but as not to miss that wave, she decided to pitch (with her cereal box) her "innovative management" training project to the Director of the company, who gave her agreement to create her own job.
Not having a team anymore, she managed to enrol volunteers from the network she had created already with her under the radar lunch workshops and people having done a similar journey within their team. And now she had to start scaling.
I thought I would do a small programme but Claude said: 'no, you are going to make a short video and we will present it in a general meeting'.
Since this initial video is not publicly available, here is the one she did the following year:
She received some great feedback, and as Claire puts it, it was "as if they had been waiting for this, it was a good time for Worldline". And following the video, people started to contact her and her network and team of volunteer trainers continued to grow.
Observing from the outside I have to say that what comes naturally to Claire and what has allowed her to start transforming Worldline from the inside is that she truly walks the talk.
Embodying new ways
I know we've all heard this "walking the talk" expression used and re-used but in Claire's case, she doesn't try to sell her innovative management programme she just does it. She is, according to me, a pure leader, people just want to follow and she doesn't need to ask. Since her programme is on a voluntary basis, she has no hierarchical power, yet she manages to get people involved. She acknowledges the ups and downs of this, as sustaining the dynamics when she is not around might be less straightforward, but only at the start, until the company gains momentum on the subject.
Some have managed to negotiate with their manager to dedicate 20% of their work time to the programme.
The strength of her approach lies in how she, the volunteers-trainers, the training participants and theirs teams apply directly and straightaway the mindsets and tools they learn. They test, learn, and adapt as necessary, and then repeat. And spread.
We are now thinking about new ways to organise ourselves. We have tested shared governance, with an organisation via circles with dedicated topics and autonomy (inspired by holocracy and autocracy). We didn't obtain the expected result, but we have worked on something lighter, and now we challenge regularly the organisation to make improvements.
We apply the consent-based decision-making (not about everyone says yes, but more nobody says no). We also tested the no-candidate election to create a special team to step in if the organisation was going wrong.
So with her team of internal trainer volunteers, she delivers workshops to share management 3.0 tools about goal setting, decision-making, planning, collaboration. They also create bespoke workshops teams who ask, on specific subjects tied up with current team issues. But they go beyond the usual training and continue to support the teams to ensure they can apply.
What we do, we continue to see the teams post training, we follow them up, to help them in daily life… We are in between internal consultants and also internal coach.
The trainees are asked to commit too to reinforce the impact of the training. This definitely helps with the new behaviors / tools adoption as well as the mindset appropriation.
We are trying to engage the teams by asking them to contact us, every month after the training, for 6 follow ups. We've not succeeded yet.
It is interesting that it is not because the whole mindset and values are about volunteering, freedom, trust and less control, that there is not a certain level of excellence and requirements. Being for the participants as demonstrated above or for the trainers themselves. For Claire experience is key, not expertise.
For me it is a 'must-have', to become a trainer you need to have an experience to share. You cannot just deliver theory, people need to grasp onto something that is concrete, something has been experienced, something that has worked. They want to understand what made it work ? Or what made it fail ? Some trainers explain how to work on goals with teams and also explained how it did not work for them, but this is a valuable experience to share, and that's what participants are really asking for. Nevertheless, we also have good trainers with less experience but a real mastery of the theory, who are able to deliver a valuable training.
Also I like the fact that she chose to always have two trainers together, not only to help integrate new ones but most importantly to give participants more perspectives and also to enrich the trainers themselves.
People I work with, we have enriching discussions, everyone has their own specialty and interest: one loves goal-setting and is reading books about it, the other is developing non-violent communication, etc.
She is building a sharing community that is learning by doing and keeps spreading. Now of course they may not replace completely experts, consultants and external trainers but they can spread much wider faster than an expert could.
Spreading like a virus – contagion
What Claire has started is a virus-like contagion of new management practices throughout the company. And the cycle goes as follows: come train yourself on these new attractive practices (a big tease) then apply directly with your own team. That's the first level of contagion.
The second level is: now you become a trainer on these subjects, you continue to develop yourself and you share your own experience. So at their second level, the number of trainers has increased and hence the reach with it.
As people started to get trained, they put tools and practices in place in their own team, and then more people wanted to help in the programme. So today we are 13 trainers.
And the third level of contagion is when people come to contaminate themselves, attracted by the good feedback / buzz they have heard. Teams and middle management too come to see her to work on specific topics with their teams.
People hear about teams who have done it and they want to do it too. They want to do it even if they do not know exactly what it entails, just based on the strength of good feedback.
The impact serves as proof of concept and encourages others to experiment too. She shared the story of an EXCOM Director saying enthusiastically after his teams had been trained:
Now people talk to each other in the teams.
Another chief of department was amazed how quickly behaviors were changing with some team members: going from passive and reserved to assertively asking about a project and taking initiatives. All thanks to co-dev techniques, peer mentoring, and other little tricks ;o)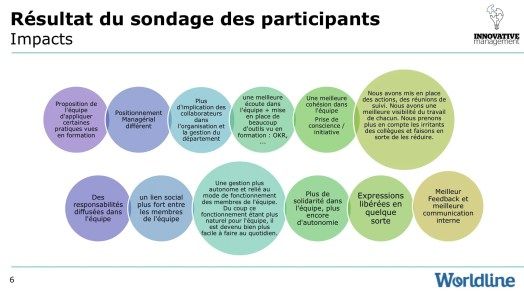 This strategy of internal people training others, of knowledge sharing and spreading in this way, can be very efficient. At the same time, you need to be watchful that it doesn't get diluted or corrupted along the way. You need to ensure that any adaptation serves as a learning experience and as an enrichment of the practices.
What Claire realized was that her one-woman operation, as it started, was gaining support but still critical mass was far away.
The biggest challenge is to address mass fast, I want things to happen quickly.
But when talking about speed, I would say that she has been pretty fast considering she is not in a startup but in a multi-thousand-people company. In 2017, she tested the new management practices, mindset and tools with her own team. In November 2017, she created her own job and started to train others. In 2018, she took her 6-month pregnancy leave, the activity slowed down. When she got back that summer she started everything again and today they are 13 trainers.
My scope is 3-4K people Worldline France. 220 people have been trained in 2017-2018.
I'd say she has been pretty efficient for a not-fully-dedicated team of internal trainers. She is well on her way to a good critical mass of 30% I would say by the end of 2020 ;o)
Her next challenges could be internationalisation, dealing with language but also cultural barriers, and scaling the team without losing the spirit. But I believe she does like a good challenge.
But spreading, initially under the radar, from the bottom and across, has its share of another type of challenges. Mainly to ensure that top and bottom are in coherence. Not just sharing the same tools but also the mindset and values of these new management practices.
The top management has enabled this programme, they gave their seal of approval. I would love to give them some of the messages, so they are also more practically involved with what we do, maybe not to the degree of what we do with rest of the organisation. I would like to ensure that the practices transpire throughout.
Remember that what Claire is doing is about changing the role of management, so the question is: "is management on-board?"
We are changing the paradigm, it means owning new values. Change equals risk, there is a lot of resistance, managers need to let go and become less operational. It is a big cultural change, it is hard for managers who come from operations to be less involved, and some team members also do not necessarily want to participate or engage more, they might like to be told what to do. I have encountered both.
It is a cultural transformation
Even if many of the practices Claire is sharing via her innovative management programme are tools, what she is leading is first and foremost a cultural transformation. Her story is, to me, a good demonstration of 3 key elements of cultural transformation:
(1) The transformation is strongly based on values
My big challenge is to get these values to transpire throughout the company… It is the values that trigger behaviors, and these behaviors can then be supported by tools. I can see that with teams with which we focused on tools only at the beginning, nothing much has emerged afterwards.
(2) Not copying or cloning but appropriating
We bring the transformation bottom up with whole teams, we train the whole team, they work on the values, with things they can apply straight away. Very pragmatic and concrete approach. And we look also at their specific topics.
(3) Energy and impact
Claire's enthusiasm and willingness to share and help others is a strong driver in this transformation. But the results and impact serve also to reinforce the dynamic.
I like the idea that the KPI could be that people tell themselves: 'I wouldn't like to work as before'.
Claire, driven by the Confucius quote has found meaning in her work, and enjoyed the autonomy as a manager and is now helping others (the whole company is the ambition) to do the same.
Do a job that you like and you will never work a day in your life"Confucius