Stéphanie and I, have the great pleasure to be keynotes speakers at this year Intrapreneurship Conference in Barcelona. Thanks to Jean-Yves, I had the opportunity to attend this rather exclusive event since its inception 3 years ago. This year with only 45 attendees and keynote speakers from Vodafone, Accenture, IBM, Allianz, Philips, Alcatel-Lucent, UNICEF, and more… it's really a "be there or be square" kind of event.
So, we'll be there !
As always let me share with you my tomorrow's 15 min keynote slides about "herding killer rabbits" to solve the famous innovator's dilemma…
When great companies have succeeded at innovating a market, it becomes increasingly difficult for them to change their mindset, and their market perspective… Up to a point when they become irrelevant and disappear.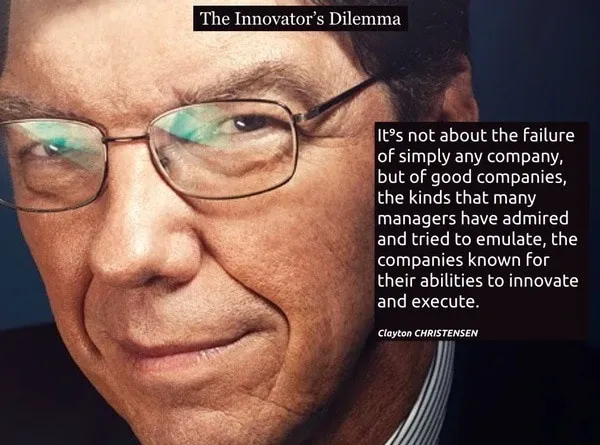 Essentially, solving this dilemma is a matter of sustaining an appetance for risk. And this is extremely difficult. More often, companies will resort to lazy innovation strategies, that I often regroup in 4 categories (from left to right and top to bottom):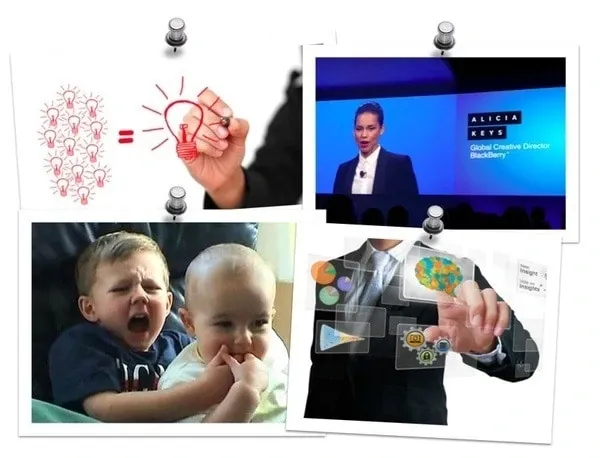 Trendy one-solution-cures-all methodologies — Like open innovation or lean startup management, that do have their own merits, but are absolutely not suited to dramatically solve ALL of your innovation ailments;
Guruification — Where you decide that someone on the planet has the mystical problem of bending reality and making innovation magic happen on command;
Making the Buzz — Or investing increasingly stupid budgets in communication, viral videos, and media time, to compensate your lack of innovation strategy (remember that ads are a tax that you pay for being irrelevant);
And finally Computerized innovation design — Where you believed that someone has not only a magic recipe to design innovation for you, but that on top of it, he managed to program it and bundle it in a software or cloud service.
If you're a sucker for such scams, you'll end up eventually reinventing the 2013 version of the infamous Bluetooth headset: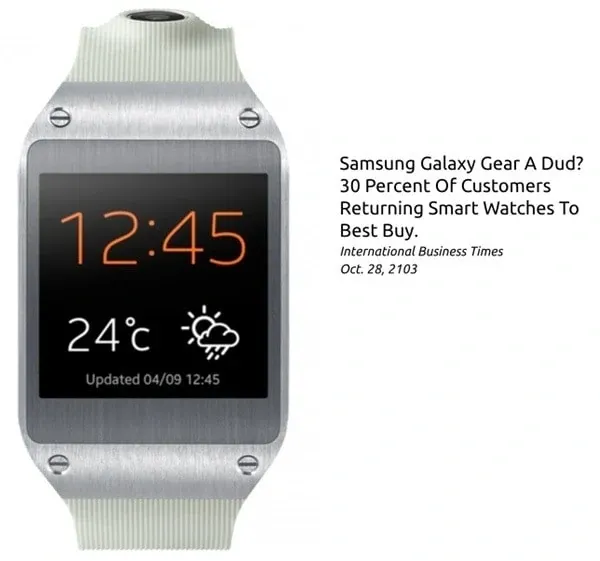 (Yup, there's an OLED screen, so what?)
So as I often do these days, I'll talk about the level of risk you have to nurture, how to do it in an internal incubation cell, etc.
These fifteen minutes will be short, but I'll try to end this keynote on a very important key point: intrapreneurs' managers usually think that they'll end up inventing the next gen business models of their company. Hell, no. This is most of the time impossible, if only because a typical intrapreneurial incubator doesn't nurture more than a dozen projects, when 100-120 over 3 years should be necessary, to produce 1 real success (What can I say? Don't even listen to me on that one, just go and meet a VC to learn hard facts).
But even in a low scale perspective entrepreneurship has 2 other objectives :
Actively scouting the market by prototyping new business models, learn from them, and bring back valuable feedbacks to the other business units;
And most importantly, changing your culture from the inside with these intrapreneurs, that after their incubation project, go back in your organization with different muscles, eyes, brain, ears…
We call them killer rabbits.
And we know how to train them: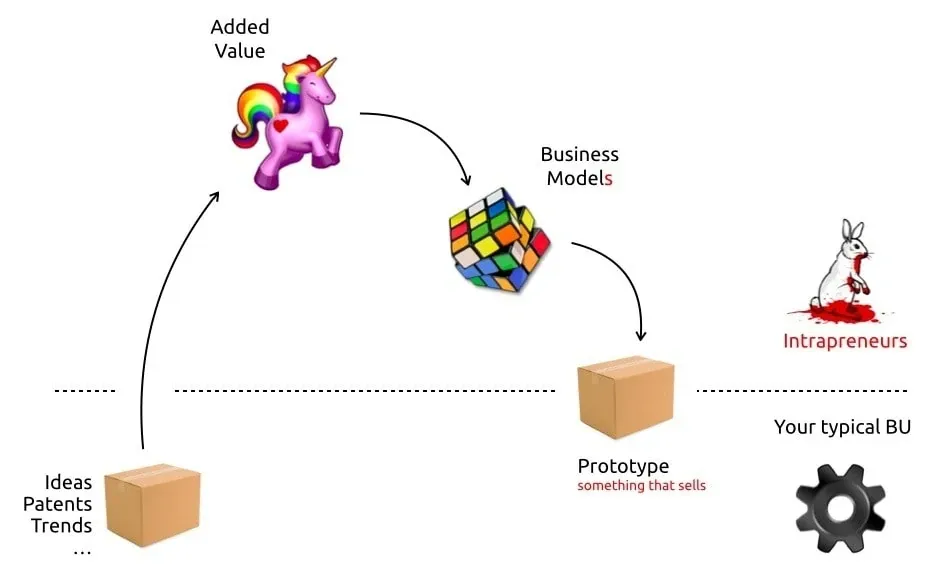 This way of addressing innovation as a new field of behaviors to address, through trying out new business models, is the kind of approach that Fred Wilson (from Union Square Ventures) as speaking of at Le Web this year. This is not about your f** product or technology, but market mega-trends, and how to seize them:
And incidentally, this is also why the latest investment plan by Fleur Pellerin — our French Minister of Innovation and Digital Economy — is totally off.
Anyway, on Friday, I'll lead a 2 hours hours workshop on one of the essential tool that intrapreneurs have to master to avoid this kind of trap. Sadly, Mrs Pellerin won't attend ; )